Did Apple just file misleading evidence against Samsung? Oh dear…
We all knew Apple was suing Samsung, and it's a case that's been going on for some time. However, little did we know what length's Apple were willing to go to, in order to win. The picture above clearly show's how Apple have changed the size of the Samsung Galaxy S (the first one) to make it look exactly the same as the iPhone 3GS, which is silly considering the Galaxy S has a 4-inch screen, while the 3GS only has 3.6-inches. Let's put it this way, officially the Samsung Galaxy S is 122.4mm by 64.2mm while the iPhone 3G (the phone Apple says Samsung copied) is 115.5mm by 62.1mm. They are most certainly not the same size, so what exactly is Apple getting at by modifying the image above (the phone on the far right is the actual size)?
Unfortunately, this isn't the fist time Apple have done this, as the picture below shows. Apple had also complained that the Galaxy Tab 10.1 was a copy of the iPad, which is clearly incorrect when you look at the picture below. The pictures on the bottom shows Apple's version, while the picture on the top shows the actual Samsung Galaxy Tab 10.1. D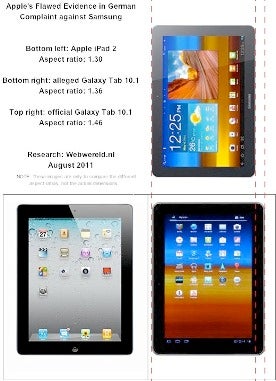 Court's had originally blocked the sale of the Galaxy Tab in Europe based on Apple's word and pictures, but it seems based on the new information we've just seen, the courts should (and probably will) overturn the decision. As for Apple, it's quite naughty of them to give the courts misleading information (not to mention deceptive). We'll see where this goes and bring you more soon.
Source: Gizmodo