Samsung Galaxy S II – The Next Galaxy S
It has been officially announced by Samsung, that the Samsung Galaxy S II (2), the successor to the wildly popular Android OS based phone, The Samsung Galaxy S, will be released on May 1st in the UK. I'm quite jealous, as our Brit friends in the North will get their hands on one of the most promising smartphones of 2011. Of course, no release date that has been revealed for any other country, including Australia, where we usually get the short end of the stick when it comes to new product releases. All I know is, come May 1st, I'll be clicking away at that refresh button on eBay, hoping to get one shipped down till it's officially launched down under (although Australia is looking at a possible June Release).
Not only is this Phone stunning in design, its loaded with high specs, and packed with features, and in the end it improves quite a bit on its predecessor as you will see below.

As you can see, the table above is a comparison between the Galaxy S, and Galaxy S II. There are quite a few changes as you can notice, and the important ones are as follows:
The OS (Operating System has been improved from Froyo (2.2) to Gingerbread (2.3). Samsung also employs their own 'Skin' (a screen they put on top of the stock Android OS to spruce up the phone, and that has been improved from TouchWiz 3.0 to 4.0.
While the processor speed might look the same, the Galaxy S II actually features a dual core processor, while the Galaxy S only featured a single core. It has also been reported that the newer model might get a speed bump from 1Ghz (Gigahertz) to 1.2 Gigahertz, giving it a boost whichever way you look at it.
The RAM or Memory has been doubled, which will help with loading programs and running applications without slowing down.
The Screen Size has been improved from 4 inches, to 4.3 inches, almost making it a mini-tablet. The Resolution unfortunately stays the same, but hopefully that won't decrease the Spectacular Super AMOLED Screen's quality one bit. (Click HERE to learn more about Screen Types)
The Camera has been bumped up to 8megapixels, which should make for some amazing shots, and to top it off, the Video Recording has been bumped up from 720p (High Definiton) to 1080p (Full High Definition), making it a great capture device.
Then phone is actually thinner, so due to that, despite being slightly longer and wider, its actually 0.1 ounces lighter!
Basically what this sums up to is this – This might be the most powerful all-round phone released in 2011.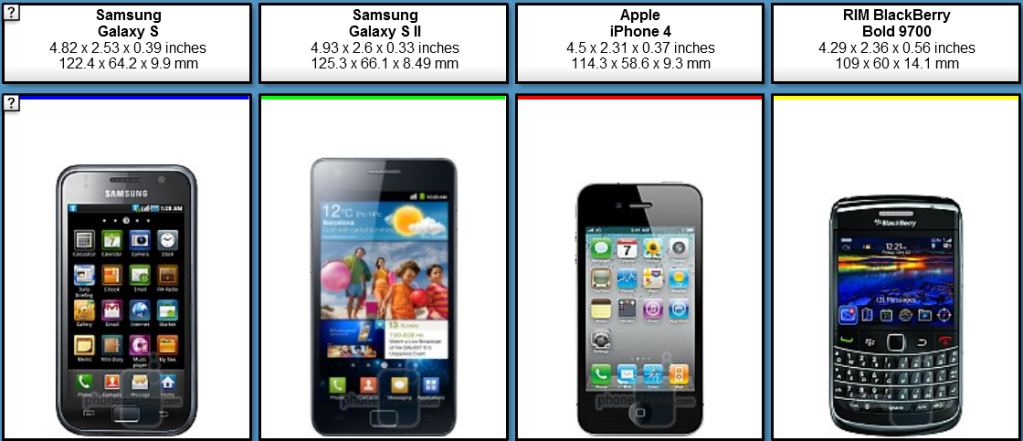 So how does the Galaxy S II stack up against the competition? We've put together this little comparison chart above, courtesy of Phonearena, where we stack the Galaxy S II against the original Galaxy S, the iPhone 4 (arguably the best phone on the market now), and the ever popular Blackberry Bold 9700.
As you can clearly see, the Galaxy S II dwarfs the iPhone 4 and Bold 9700, and almost dwarfs its older brother the Galaxy S. It's a big phone so we can't quite recommend this one for people who like small phones, but we can note, that while it is the biggest, it is also the thinnest phone of the bunch.

As you can see, Samsung has done an amazing job of making the Galaxy S II as thin as it is. It certainly looks quite sleek and sexy when compared to the original Galaxy S, and puts the Bold 9700 to shame. The iPhone 4 does come close to it, but the crown goes to the Galaxy S II here. We will be doing a one to one comparison between the Galaxy S II and the iPhone 4 soon, so stay tuned for that.
So there you have it, our first look at the Samsung Galaxy S II. I currently run on a 4inch Super AMOLED (Samsung Omnia 7 phone) screen already, but with the specs this bad boy packs, I might just migrate to this sexy phone when it gets released. It looks absolutely gorgeous, has specs to make other phones tremble at their knees, and is running one of the best Operating Systems available – Android. The cherry on top of the delicious cake is that it packs a powerful camera, and brilliant video recording capabilities. Based on specs alone, I would recommend this in a heartbeat. Of course, we'll have to wait for the final product to review so we can give it a better assessment to see if it stands up to the hype. For now, add this Phone to your 'To Buy' List!